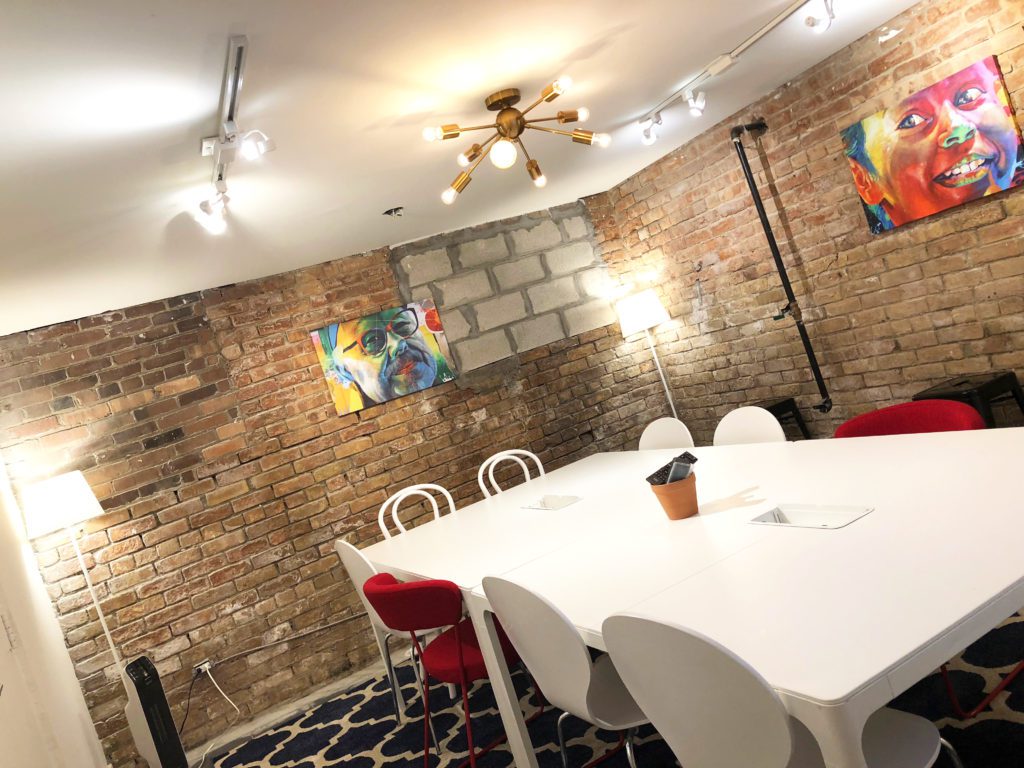 Image: One of our funky meeting rooms at King Street – this one called JPEG
In downtown Toronto, our commercial vacancy rate is now two percent, and some experts think that number is more like one percent. As Canada moves away from our manufacturing, agriculture, and energy-reliant past towards a robust knowledge sector, we'll require more flexible downtown real estate. As it stands, demand for space far outpaces the availability of it, and yet tech companies can't hire fast enough — we don't have enough people to fill the seats we can't even find to rent.
Add to this local demand the desire from global firms to move here now that politics in the United States has become caustic to the general population's well-being, and the knob turns further towards danger mode.
The majority of Toronto's urban office space is locked up in long-term leases by companies who are operating with legacy furniture systems that waste space. Many of those companies want change, yet don't have the cultural agility or budgeted resources to reconfigure. Those who do space planning experiments may not be informed by the type of experience coworking companies enjoy, and suffer inefficiencies and the need to redesign later on. An example of this is 'hotelling,' where, for example, five people may share one desk and are allowed to use it each for one day per week. While the coworking industry is well-aware of the failure of this model, other companies may not be.
Large multinational corporations like Regus and WeWork are capitalizing on the local need for space by employing 'space efficiency maximization' techniques — creating sanitized coworking experiences that lack authentic Toronto culture.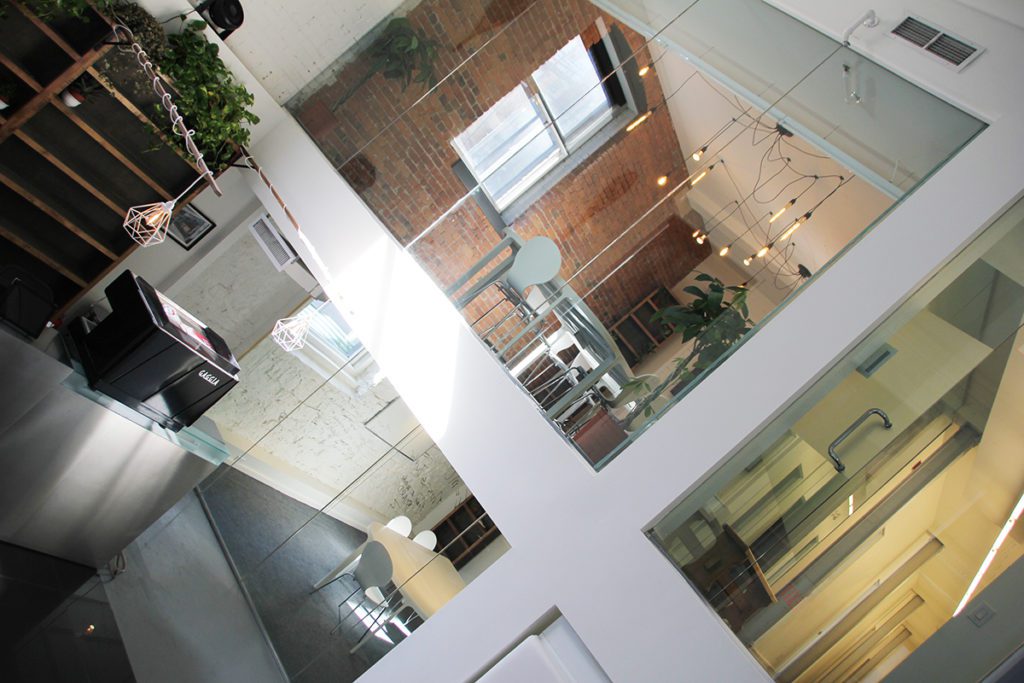 Image: Transparency is key in our interior design of the King West Atrium
From our experience at StartWell, a lot of happiness at work comes from interaction and inspiration. Our spaces are designed to be shared – right from large format call booths that let two people work together, to our massive use of common spaces. At StartWell's King Street location, for example, all types of members use and meet in our 8,000+ square feet of cafe, lounges, meeting rooms, and hot desks. These spaces collectively make up nearly half of the entire location, and accessing them isn't limited to our members. Similar to a service like Breather, anyone can visit our website to instantly book a StartWell Space by the hour, day, or longer.
Of course, as our membership increases, the collaborative potential of our community will only get more exciting – a large, diverse club will benefit all members as a place to find inspiration and learn from each other, as well as work together. Breathing uniquely Torontonian life into the StartWell experience, we feel it's important to forge partnerships with health and wellness practitioners, plus artistic organizations. With the help of organizations like Artery (which pairs hosts and artists on their digital platform) and Toronto-based music technologist and percussion maestro Gurpreet Chana (as Artist-in-Residence), programmed music performances and theatre are becoming a regular occurrence within our walls.
Scale can happen in any direction for early-stage companies, and physical space should never limit the potential a company has to keep evolving. Our members can change their plan at any point, and in addition to offering private offices, dedicated desks, and the club membership, we also provide local companies 'Growth Spaces.' For teams of 30+ that don't want to hire an office manager or worry about infrastructure, StartWell Growth Spaces come pre-loaded with all of our coworking amenities – including high speed WiFi, beer on tap, printing, scanning, and copying, and our digital platform for managing meeting rooms.Though these may be peppered across downtown, any StartWell member can work out of our growing network of locations in the city and partners overseas (including boutique hotels, lounges, and social clubs) and we hope that this greater work freedom not limited by physical constraints will enable entrepreneurs to succeed at whatever they set their sights on.
Startwell is a studio space partner for BetaKit's Facebook Live Series